IHG Business Rewards
User Experience for IHG Business Rewards Event Management
2015

IHG's Business Rewards programme is tailored especially for event planners such as personal assistants and wedding planners. Business Rewards members earn points via reservations made for their clients at participating IHG hotels. Currently, members are required to connect with a customer service representive to create their Event ID and attach their clients' reservations in order to claim Business Rewards points.
The new Business Rewards event management feature is designed to improve cross channel efficieny (i.e. reduce volume of calls and the costs associated with it) and allow Business Rewards members to be able to independently complete majority of the tasks online.
Event planner Ashley is a prime example of our Business Rewards event management user. Independent and web savvy, she prefers to conduct her business online and keep phone calls to customer services at a minimum. With the event management feature, she is now able to create Event IDs, attach her clients' reservations to their respective Events, and view the Events in her account.
Today, she is organizing a family reunion for the Jones family at the Crowne Plaza Atlanta Perimeter at Ravinia in Atlanta, Georgia.
Before Ashley can create an Event ID for the Joneses' family reunion, she has to make the hotel room reservations for the Joneses. This is because an Event ID requires a user to submit at least one unique reservation identifier (i.e. room reservation confirmation number) in order to validate her Event creation.
In addition, for IHG's Loyalty Services to complete association of Ashley's Event to her Business Rewards account, they need to confirm data from the Event, such as room revenue, check in and check out dates, number of rooms booked, etc.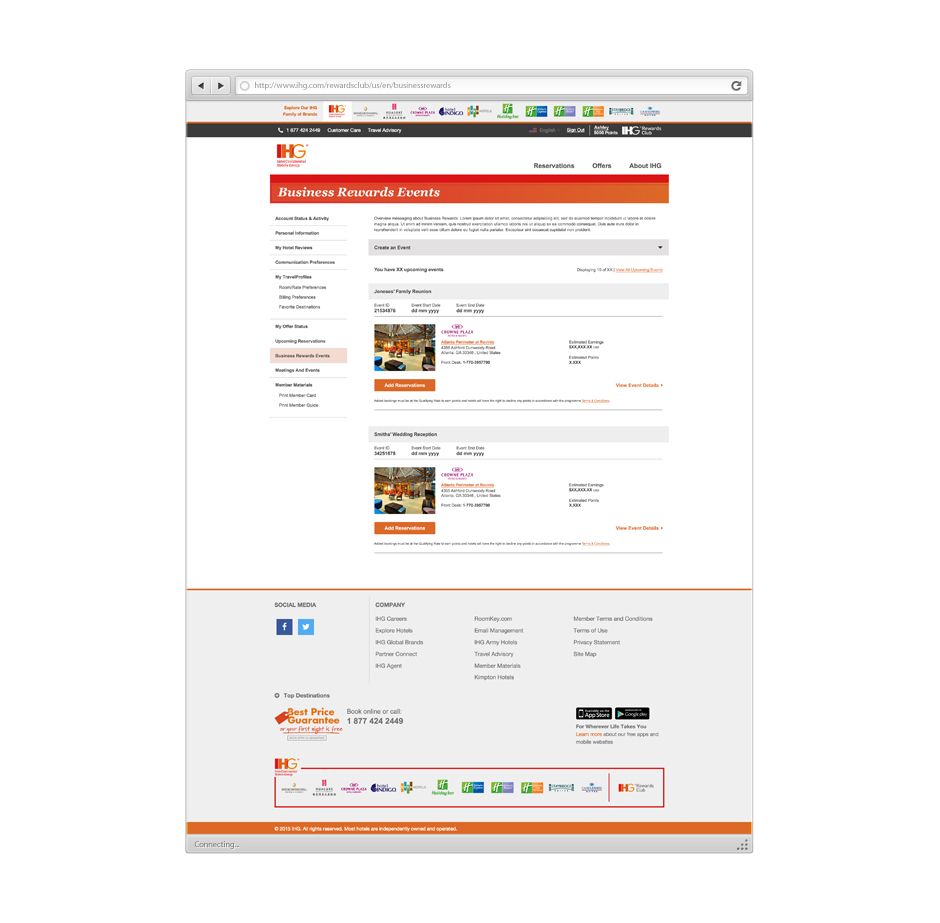 Ashley will be able to successfully create an Event ID with at least one existing room reservation. A valid room reservation requires a room reservation confirmation number with a matching guest's last name. The Event's start and end dates will be inferred through the room reservation's check in and check out dates.
Errors in creating an Event ID will be triggered if the room reservation is invalid (e.g. non-matching guest's last name, room check out date is in the past), the room reservation has already been associated with another Event ID, or the room reservation is at a different hotel from the hotel that is associated with the Event ID.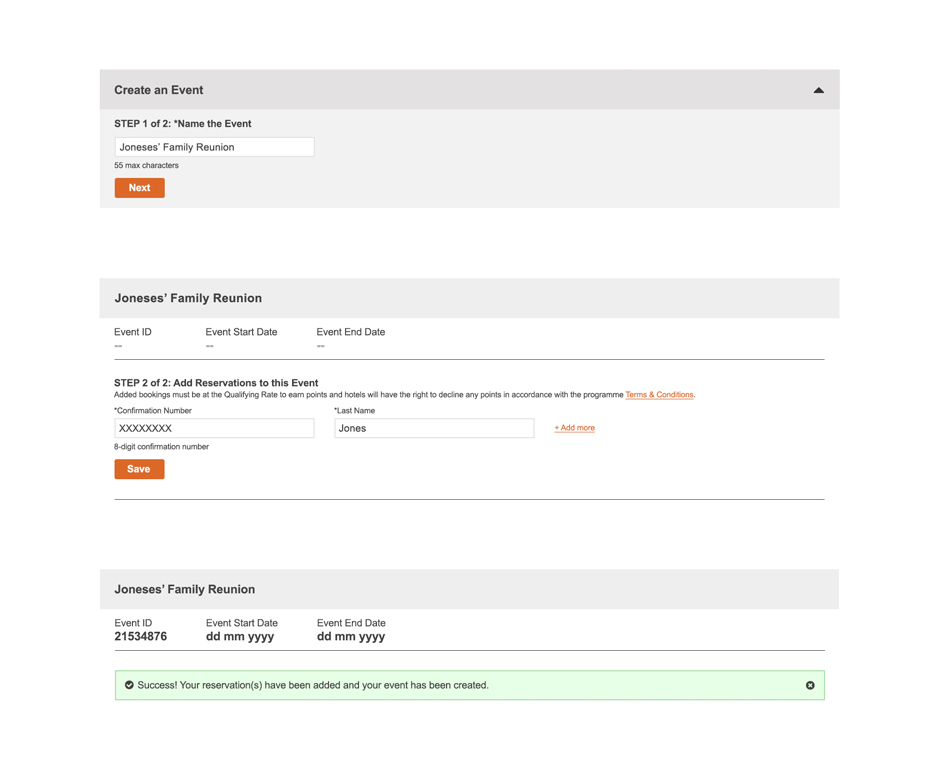 Ashley can add more room reservations to her Event after the creation of the Event ID. The interface will allow her to add up to nine reservations at one time.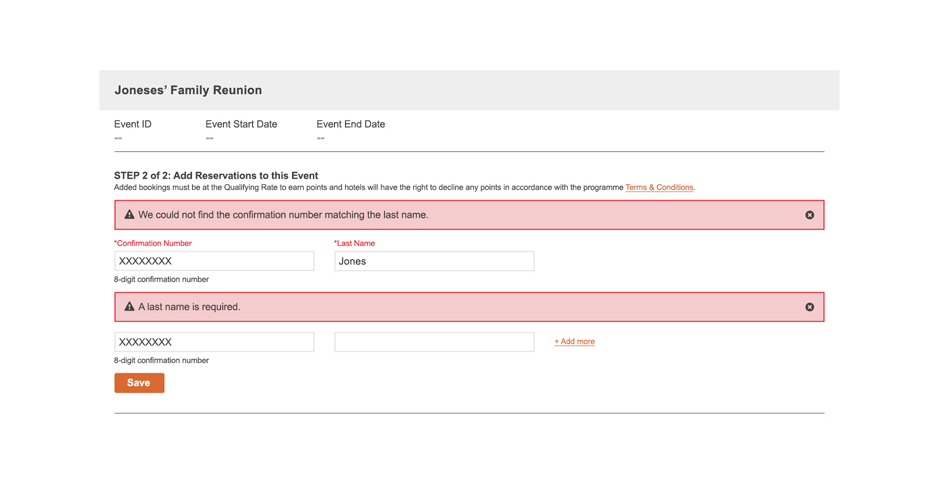 An error will be triggered if the room reservation confirmation number does not match the guest's last name.
Ashley can view her present and future Events from her Business Rewards account. The Event Card in her dashboard gives her a quick overview of the Event. From the Event Card, she can add more reservations, or view the Event's details.
On the Event Details page, she can view all the room reservations attached to the Event, as well as the expenses associated with the Event.