IHG Rewards Club
User Experience for Registration Flows
New Registration Flow for Airline Miles Reward Sign Up
2014
IHG Rewards Club Bonus Miles Package

There was an identified a potential loss of revenue because IHG Rewards Club (IHGRC) was unable to market with their airline partners due to the inability of the current enrollment to allow new members to select airline miles instead of points. (The only way an IHGRC member is able to select miles is to first enroll to earn reward points, and then navigate through their account preferences to switch to earning miles.)
Each potential member that IHGRC is missing out on today equates to a 5 year value of over $1,000 per enrollment. This enhancement will work in conjunction with the launch of Bonus Miles Packages (BMP), projecting an increase in $8M in hotel revenue for the forth quarter of 2014. The BMP is marketed through airline communications channels to drive enrollments & stay activity. The rate will only be available through a specific landing page on ihg.com. New members will be able to enroll through that landing page and select to earn miles.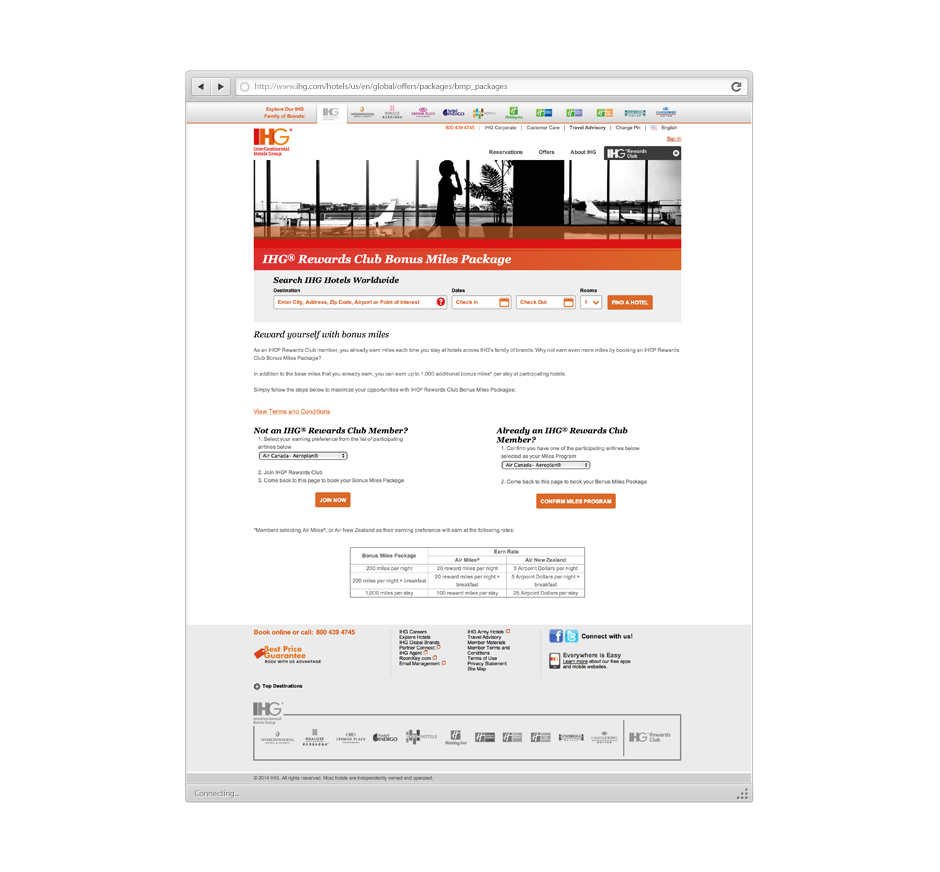 With the creation of airline-specific smart pages that pass miles through to the enrollment page, new members signing up for IHGRC via their partner airline can easily do so and opt to earn miles. This allows IHGRC to better market with their airline partners and target additional potential IHGRC members.
The airline partners will market for their customers to enroll in IHGRC to earn airline miles. Each airline will have a unique source code for customers to enroll in IHG Rewards Club.

There will be two types of users who will be using this registration flow. The new member and existing IHGRC member. Once a user clicks through from the BMP landing page or the airline's website, he will be directed to the smart landing page on ihg.com. Based on the unique source code, this smart page will display the corresponding airline logo for the user. A new user will enroll by clicking "Join Now". A current member wanting to switch to earning miles will "Sign In" to fast-track to change his preference in his member account.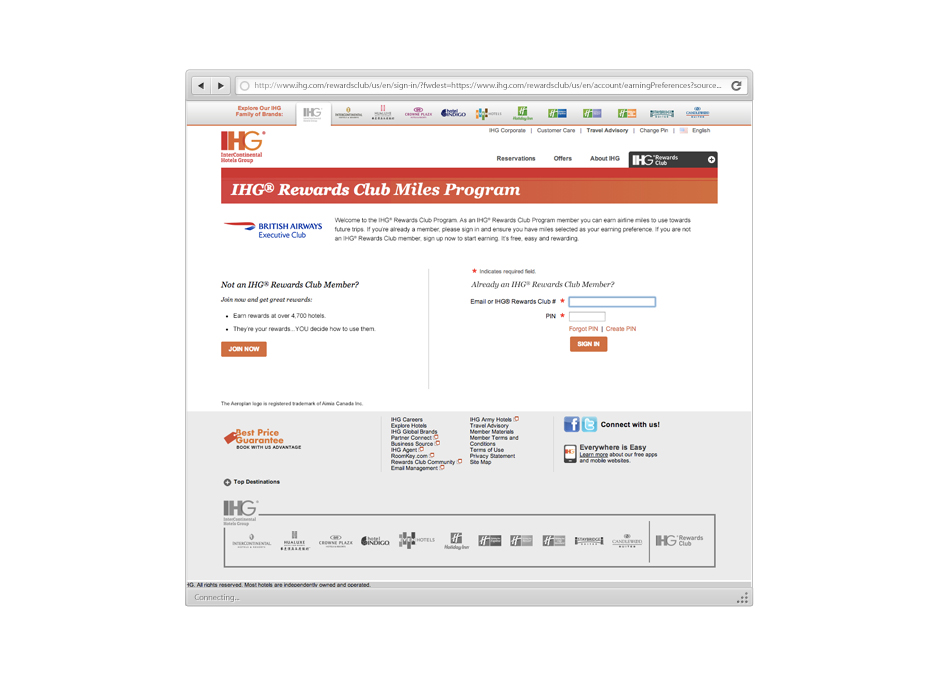 User A: New user enrollment flow
After selecting airline miles, the miles program will auto-populate by the source ID. The user will fill out his airline miles member number. Following this, he will fill out a standard enrollment form to enroll in IHGRC.
User B: Current member switching from earning points to earning miles
After signing into his account, the user's earning preference will be defaulted to airline miles. The miles program will auto-populate by the source ID. All the user has to do is fill out his airline miles member number and verify the name used by his airline miles member account.